Clothing is a necessity, as well as a luxury, but it can be costly. This is why saving a few £££s on your fashion purchases is very welcomed. So, here are the best ways to save money on clothing…
Buy Second Hand
There has been a huge BOOM in second-hand clothing during the last year, due to job losses and lockdown measures. It's become super fashionable. There are loads of places you can buy quality second-hand clothing such as eBay, Vinted, and even via the Facebook marketplace.
Offset your spending
If you can't afford to splash out on clothing but are in need of new, why not sell some pieces, so you can use the cash you make to purchase your new (or second-hand) clothing? Again there are plenty of websites and apps out there that are great for selling clothes for cash, such as Gumtree, Etsy, and Depop.
Shop Savvy
There are plenty of fashion brands out there now, and some stock really high-quality pieces at rock bottom prices. Retailers such as Shein and Everything5pounds have taken the UK by storm. Shoppers used to be worried that the items wouldn't come looking like they did in the pictures, but these websites now allow photo reviews, meaning you can see the pieces directly on people (with realistic body shapes).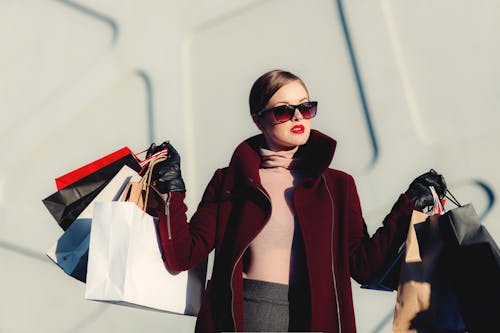 Use Voucher Codes
The good thing about vouchers is that they can usually be coupled with student discount and cashback, meaning you get even more bang for your buck. There are loads of good coupon websites and smartphone apps out there such as Vouchercloud and Myvouchercodes.
Tip: Search around as one might not have a code live, whereas another voucher site might.
Get Cashback
Using cashback websites when shopping online is a no-brainer! The best one is Topcashback, closely followed by Quidco. You can get up to 20% back at some fashion retailers just for shopping via the links they provide.
Student Discount
Have you got a student in the house? If the answer is yes, you could be saving up to 30% on your clothing purchases via Studentbeans and Unidays. Most Fashion retailers offer student discounts, if available you can find the information in the footer links of your chosen retailers website.
Sign Up for Newsletters
It's a well-known fact that signing up for your favourite brand's email list is a good idea. Newsletter subscribers are often privy to a welcome money off voucher, exclusive deals, exclusive savings, and access to sales information, before the general public.
Sales, Sales SALES!
Last but not least, of course, one of the very best ways to bag yourself fashion bargains is to shop when there is a sale on. All fashion retailers have sales to get rid of surplus stock and end-of-season lines. The key to getting your hands on the sale items before everyone else is to know when the sales are due to start.
Money Saving Central is the best resource for UK Sale Dates, the team track, predict and reveal all the upcoming sales, meaning savvy shoppers can be ready for their favourite clothing sales to drop such as the Next VIP sale and the hugely popular TU 25% off Clothing at Sainsbury's.
Summary
If you can combine all the above tips, you can get yourself some serious savings! Shop a sale, try and find a voucher code or student discount AND go through a cashback site. That's a triple whammy of savings!
Have any other good money-saving ideas to bag bargain clothing? Please do get in touch or let us know in the comments below.